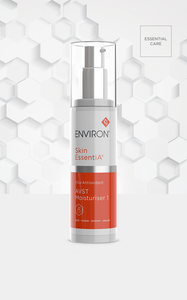 Environ
Vita-Antioxidant AVST Moisturiser 1 - 50ml
Regular price
£55.00
£0.00
Unit price
per
Tax included.
Shipping
calculated at checkout.
AVST 1 is an introductory moisturiser in the AVST step-up system that contains the lowest concentration of vitamin A and C. This light moisturising cream contains a variety of antioxidants as well as moisturisers that leave your skin feeling revitalised and refreshed.
BENEFITS:
Regular use enhances the overall appearance of the skin, including uneven skin tone.
Contains antioxidants that are known to combat free radical activity.
Following the AVST step-up system provides the skin with all the essential ingredients to help nourish, moisturise and fight the visible signs of ageing.
Suitable as an anti-ageing moisturiser.
Important information:
Due to the high levels of vitamin A in the step-up range, all lower level EssentiA Vita-Antioxidant AVST moisturisers must have been used prior to the next step up.
Due to the active ingredients in the step-up programme the moisturisers are best used within 10-12 weeks to ensure optimal activity.
ON ALL FIRST ORDERS WITH US, to order AVST2, AVST3, AVST4 or AVST5 please email info@rnd-intone.com  with the following information:
-Your telephone number
-The best time to call you for an telephone consultation.
How to use:
After pre-cleansing, cleansing and toning with your preferred Environ products, apply EssentiA Vita-Antioxidant AVST moisturiser to the face, neck and décolleté. Finish with an eye cream and SPF product.
Suitable to wear under makeup.
Use in the morning and evening.
2 full pumps will be sufficient to do the whole face and neck. Use no more than a 20 pence size amount of moisturiser
This product does not contain a sunscreen. Use a broad spectrum sunscreen and limit high sun exposure while using this product.
Recommended Step Up Process for Skin EssentiA  Avst Moisturiser:
AVST 1 – Use 1-2 Bottles
AVST 2 – Use 2 Bottles – introduce C-Boost AM (optional)
AVST 3 – Use 2 Bottles
AVST 4 – Use for 3-4 Bottles
AVST 5 – Maintain and layer either Retinol or C-Quence 1 underneath AVST 5.
---